This botanical formula features probiotic-fermented resveratrol, the specialized agent for cell health and rejuvenation. This formula supports the immune response and healthy inflammatory function.  In addition, it also delivers premier cardiovascular and anti-aging support. This product has premier antioxidant activity in supporting healthy anti-aging function by scavenging free radicals.
Bio-fermented Resveratrol Formula
Science is now uncovering nature's little secrets to support healthy aging.  Resveratrol is a highly active, phytonutrient compound found in over 70 species of plants.  Resveratrol is a special plant compound that possesses polyphenol compounds that have demonstrated cardiovascular properties and which have considerable potential for healthy cellular function. 
Resveratrol extract is derived from the Giant Knotweed plant, Polygonum cuspidatum root, and standardized to contain 100% trans resveratrol.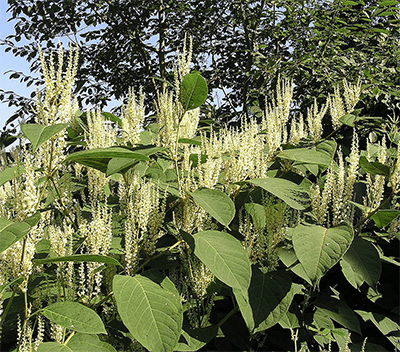 The Giant Knotweed Plant
Ingredients:
1/2 Teaspoon Provides:
---
Fermented Resveratrol. . . . . . . . . . . . . . . . . . . . . . . .100 mg
[from Giant Knotweed (Polygonum cuspidatum)] fermented in a probiotic culture1
---
Other Ingredients: Purified Water, Organic Alcohol, Organic Molasses
1Probiotic culture inactivated after fermentation; preserved with organic alcohol
Recommended Use:
Take 1/2 teaspoon in 1/4 cup of water, twice daily or as directed by your health care practitioner. Shake gently before use.