Wild Caught Salmon, A Super Food & Recipe

Salmon, A healthy Animal Protein
It's hard to find an animal protein that most health experts agree is good for us – salmon may be the one. A plentiful fatty fish found in the Alaskan, Pacific and Atlantic oceans as well as many rivers of North America, the key nutritional benefits of wild caught salmon include:
Omega 3 Fatty Acids
Protein
Vitamin D
Mercury Content is Low
Salmon's claim to fame is the amount of Omega-3's it provides. These polyunsaturated fats have been shown in multiple studies to be beneficial in fighting inflammation – the body's internal "fire" behind the majority of chronic diseases of today. and a great source of protein, salmon is also high in Vitamin D, 100 grams provides 466 IU of Vitamin D.  Vitamin D is essential for bone health, supports immune function and is a proven anti-cancer hormone. 
Studies have shown salmon to have the following benefits:
Lowers blood pressure and improves cardiovascular health
Improves cognition and memory
Facilitates beautiful skin
Supports bone & joint health
Lowers the inflammatory burden
While some of you may consume tuna instead of salmon on a regular basis, chances are you are buying tuna that often carries a high load of heavy metals in its tissues. So instead of tuna try this salmon recipe instead. We always recommend wild caught and although local fresh is ideal, frozen or canned salmon are also good options when salmon is out of season.  
Avoid the metals and get a healthy dose of Omega-3s and Vitamin D. A win-win.
Here is a recipe for an easy salmon salad – a much healthier version of the ubiquitous tuna salad.
Salmon Salad:
Total Time: 5-10 minutes
         1-2 servings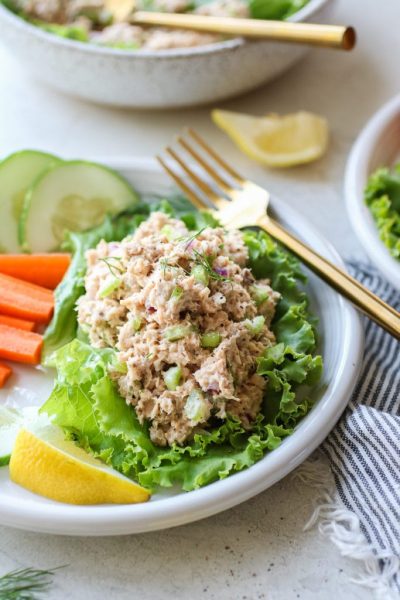 Ingredients:
1 can wild salmon
½ red onion –diced small
¼ cup parsley, minced
1-2 celery stalks, diced
1/3 cup olive oil
1 tablespoon dijon mustard
1 teaspoon. maple syrup
3-4 tablespoons apple cider vinegar
Mixed baby greens
Directions:
Drain salmon and put into mixing bowl
Combine with onion, celery & parsley
Mix together with salmon
Place on bed of baby greens
Serve with crackers or on cucumber slices
Dressing:
Homemade Raspberry
Whisk together olive oil, mustard, raspberry preserve and vinegar
Add salt/pepper to taste
Or you can substitute Store-bought Bragg's or your favorite dressing*
Please only choose WILD – farmed salmon is full of toxic chemicals and has to be injected with food coloring before hitting the store shelves.  If you buy canned, make sure that the can is BPA-free – most canning is aluminum, a known endocrine disrupting chemical. We recommend Vital Choice. www.vitalchoice.com They sell clean, delicious, and nutritional wild caught salmon in BPA-free cans.
Here's to delicious and nutritious food.
Monitor  Maintain  Thrive
Feel your best, Be your best, Live Well
The Live Well Team